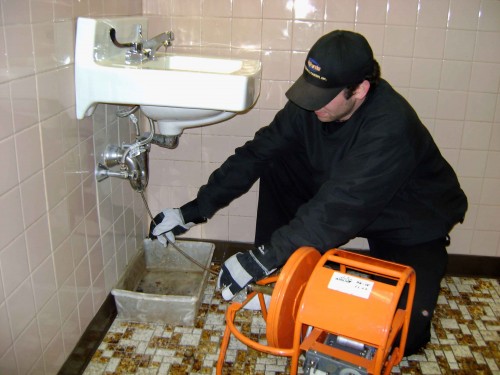 When your home or office needs drain cleaning or sewer line repair, you need reliable and expert service to ensure the job is done right the first time. Irvine Plumbing and Rooter Pros is ready to provide you with unequaled drain cleaning and sewer line services 24/7. All of our plumbing specialists are educated in the latest plumbing technologies so we can get to the root of the problem without creating any unnecessary stress or additional worry.
Irvine Plumbing Specialists Are Drain Cleaning Experts
Clogged drains are not unusual, but they shouldn't be ignored. Many times a clogged drain is more than a nuisance; it can actually be a symptom of a larger problem. In some cases, using chemical drain cleaning solutions can actually make the problem worse.  To avoid damaging your drains and pipes, you need the expertise of a professional, reliable, and capable plumbing company in Irvine. All of our licensed, bonded, and insured plumbing specialists at Irvine Plumbing and Rooter Pros recognize that drainage matters can be trying and difficult to get to the bottom of without qualified assistance. This is the reason we have made it a priority to offer dependable drain cleaning services to residents and businesses for the past 25 years.
Some of our most popular services include:
Bathroom Plumbing
Drain Cleaning
Plumbing Drain Cleaning
Pipe Repair
Plumbing Installation
Sewer Line Repair for Irvine Residents and Business Owners
Dealing with a blocked sewer line is not a walk in the park. It can be a messy situation if left in the hands of an inept plumbing contractor. Repairing a sewer line takes many years of experience and an in-depth understanding of sewer systems. The plumbing specialists employed by Irvine Plumbing and Rooter Pros have the know-how and years of experience to help you tackle the toughest sewer line repairs with ease and professionalism. We offer state-of-the-art repair methods such as hydro jetting and trenchless sewer repair. Each of these methods makes it easier and faster to clear blockages and fix collapsed pipes or other issues that may have caused the problem with your sewer in the first place.
As your premier emergency plumbing company in Irvine, we have provided services for the following establishments:
Commercial
Residential
Colleges & Schools
Real Estate
Property Management
Restaurants
Hospitals
Housing Developments
To schedule an appointment for drain cleaning or sewer line repair, call one of our courteous plumbing specialists today. We are here for you 24 hours a day, seven days a week.